Note10+ V/S NOTE 20 ULTRA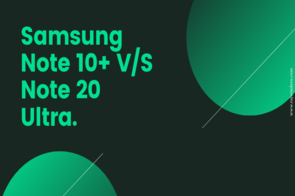 After the event on 5th August Samsung announced about many new gadgets from the company which was Galaxy Tab S7, Galaxy Tab S7+, Galaxy Watch 3, Galaxy Buds Live, and Note series. So, let's talk about the Note 20 Lineup. It has 2 Models Note 20, Note 20Ultra. Note 20 Have smaller size, no 5g option available, and MissingLaser AutoFocus Sensor, Battery Capacity, Camera changes, missing Samsung's Curved Screen, Connectivity difference like the ultra-wide banda and many more but now let's talk about Difference between Note 10+ and Note 20 Ultra which one is worth buying? So,let's begin.

1. Battery:- NOTE10+ have 4300MAh, whereas Note 20 Ultra has 4500 MAh.
2. Display:- Note 10+ have 6.8-inch Dynamic AMOLED; 3,040×1,440 pixels,60 Hz refresh rate. Note 20 ultra has 6.9″ edge Quad HD+ Dynamic AMOLED 2X Infinity-O Display (3088×1440), 496 PPI, 120Hz refresh rate.
3.Camera:- This was a big change in a high-level Improvement in camera.
Note 10+:- 12-megapixel (wide angle), 16-megapixel (ultra-wide angle), 12-megapixel (telephoto), 3D depth (HQVGA).
Note 20 Ultra:- 12-megapixel(wide angle), 108-megapixel (ultra-wide angle), 12-megapixel (telephoto),Laser Auto Focus and depth Sensing, 50x zoom, 5x Optical Zoom,Optical Image Stabilisation, Tracking AF. Both with 10 MP SElfie camera.
4. Recording:- Again Samsung took Video Recording to Next level.
Note10+:-Support 4k recording at 60 FPS.
Note20Ultra:-Support 8k recording at 24 FPS.
5. Ram:-
Note 10+:12 GB Ram(LPDDR4)with 256 Gb/512 Gb
Note 20 Ultra:12 GB Ram (LPDDR5)with 256Gb/512Gb
6. Processor:-
Note 10+:- Snapdragon 865/Samsung Exynos 9825
Note 20 Ultra:-Snapdragon 865/Samsung Exynos 990
7.Water Resistant:-
Note10+:- IP64 Protection
Note20 Ultra:-IP68 Protection
These were the main difference between mobiles other are design changes. So, thanks for reading, and do let me know in the comment section if you want specs and information about other Gadgets and Comparison and Do share it.