iPhone 12 Leaks and Specs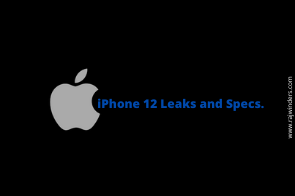 So, as we all know that in September or October, Apple would announce its new Mobiles. The new iPhone 12 Series. So, Leaks are that there would be 3 mobiles Lineup, But I think that there would be 4 mobiles Lineup because leaks are that lower end would be 5.6 Inch screen, others would be 6.4 inch and 6.7-inch models, also leaks say that lower-end would-be the successor of iPhone 11 which is not possible. So, there would be a 6.1-inch model expected successor of the iPhone 11. The chipset used would be the new A-14 processor. Leaks are the technology used would be 5nm, which would be 50% faster than the A-13 chip and consume 30% less power consumption. There are picture leaks on twitter check it here.  The notch would be smaller this time with the help of rearrangement of parts like the speaker shifted upwards making space for sensors and camera to come nearer. It is expected a 5.6-inch version would have 2 camera Setup, 6.1-inch version would have 3 camera setup and the other 2 would have 4 camera setup(could be Lidar sensor) or 2 lower-end variants with 2 cameras and other 2 with 3 camera. Picture leaks look like they are bulkier. So, the expectation is a Big battery. Here is the picture.
It doesn't seem apple to come with 5G connectivity in lower variants but there are very fewer chances that apple comes up with its high-end variant 6.7-inch one and could be very expensive too. Design-wise a metal frame will be used with a blank top, lighting port and speaker grills at bottom, volume rocker, sim-tray, and Typical mute slides on the left side, the Power button on right and groove is visible(unknown)maybe for Siri an air trigger is used.
There are leaks that in order to control E-waste they won't give Charger, Headphones in Box. Which I don't Like and many other Indians even won't Like. But they will sell them Separately(obviously this is for their Profits) and this pack won't be less than 5000INR anywhere.*Bad Step if charger headphone would be overpriced showing it would be for there Profits*. There is even news that new iPhones will be manufactured in India and would be a Made in India Product. This also may lead to a decrease in the overall price of Indian iPhones.
So, this is done for The article. These are Leaks not guarantee*. Please like, Do share it and comment on what you liked and recommend what you want next.