Galaxy Tab S7+ V/S iPad Pro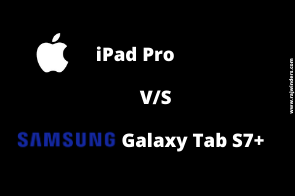 After the launch of the new Galaxy Tab S7+ Samsung raised Bars for all android Tablets and become a competitor of iPad Pro which claimed to be powerful than any laptop. So, let's do the comparison between the both top-notch Tablets. Let's begin.
The Tab S7+ comes with 15W charger, Earphone, S-Pen. The tab is capable of getting charged @45W also. The S-pen is in the box which is an advantage over the iPad because they sell Apple Pencil separately for 11,000 INR. Both the tablets come with Quad Speaker setup. The keyboard is available for both products Separately, talking about iPad pro it costs around 26000INR, whereas for Galaxy Tab S7+ it is around 11000 INR. So, here we get a plus point again for S7+ discarding the Fact we don't get a Backlit keyboard yet in S7+, which helps to make it lighter than Ipad's Keyboard, also we can't forget that it gives a more secure case for S-pen. Both have separate UI for their operation those are Samsung Dex, iPadOS developed to give the laptop feel. There is one more advantage on Tab S7+ it supports 5G internet connectivity. The Samsung Galaxy Tab S7+ even have expandable storage to 1Tb. S7+ Tab comes with 8GB ram LPDDR5. iPad Pro has 4GB ram LPDDR4. Here there's no plus point because everyone knows optimization and processor power of Apple and no one could compete it even now. Even if the Ram was 3 Gb it would be powerful. But on paper S7+ got a better ram. Now, let's talk about the cameras. Both got a dual-camera setup. S7+ has 13mp+5mp (ultra-wide angle) and flash. iPad Pro Have 12mp+ 10mp (ultra-wide angle), Lidar Sensor and Flash. Galaxy Tab has an 8mp Selfie Camera on top if in landscape mode. iPad has a typical portrait top 10 mp Selfie camera and obviously Apple is unbeatable here also.
This is done for comparison. Getting to the result both are great. If you are in Apple Ecosystem then go for iPad and if android then you can buy Tab S7+. Both are great for Gaming and productive purposes.
Thanks for reading, Do like it, Share it and comment on what you liked, what next you want, also rectify me if you find any error in comments.