Tips to Grow Your Youtube Channel.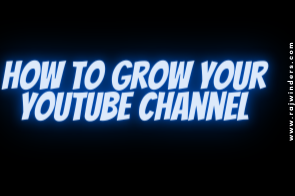 These Blogs won't give any Ideas which will decrease your reach in the future by Google or anything like that and even I don't promise that your Subscribers will increase Overnight, it only depends on your Content and Hardwork. So, let's begin.
Youtube Tags:- Many people underestimate but this is a major factor, this is the only thing google counts while displaying you suggested/Related. For example, I opened youtube in the Incognito tab and searched Pubg and suggestion were regarding Pub-g on Video.
So, you can see this is what is done with the help of tags. This is not shout out to channel just it was first Search Result for keyword Pubg. So, now you have to find the top influencers of your niche and get to know their Tags, You can use Extensions for this EXAMPLE(click to get it).
With Extension:-
Without extension:-
CTA:- After you get a new visitor and that persons get an interest in your content so to make sure that they subscribe you must tell them what to do next like subscribe, turn on Notification, Share to their friends and say them to subscribe if they like. This will create Mouth to Word. By the way, the Full form of CTA is Call To Action.
Promotion:- You must promote your Channel to do so. You can promote it yourself if you have good Social Media, if not then you can find a friend for the shoutout but this, you must find the same niche. Even if this not work then you can go for paid options like Ads are my recommendations and shoutout from Streamers, Gamers is useless as much as I Am Rich App or Nokia 1100 Cover.
So, this is done for today. Thanks For Reading, Do like, comment on what you liked, And share it.