Things Google doesn't want in SEO.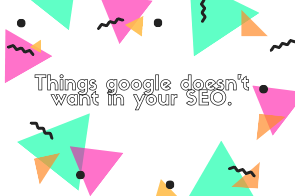 So, you know what Google wants in your site's SEO. Let's see what Google doesn't want in your SEO. Let's Begin:-
Keyword Stuffing:- It was a very old trick to Rank by using Keyword many times in their Content this is called Keyword Stuffing but after updates now this is considered Black hat SEO and one should not use their keyword more than 3 times in an average blog of 300-400 Words.
Plagiarism:- It means that your content is copied. You must get your content checked in any plagiarism tool. Sometimes it is not intended and we write the content of someone else by mistake. It happened with me also but I was saved because of the plagiarism checker tools. You can use any but I use smallseotools.
Link Buying:- There are many panels, sites which give Backlinks from very cheap rates, even some bloggers with high DA sell Backlinks, if google finds out these then both sites selling and buying could be suspended or Banned. The Backlinks from sites and panels are useless and have fewer DA sites which will decrease your Rating instead. So, never purchase them from sites like fiverr.com Although the site is very good but that section is worst

You can see it now.
Cleverness to Users/Invisible text:- Many people use tricks like writing with white color on white backgrounds. This is done when somebody wants to rank for something which they don't want to see by the user, this is not limited to text on Pages, but links too and over images also. Users can be betrayed but google can't be.
Doorway Pages:- Many people create multiple websites using different SEO techniques they get all of them ranked but all pages give redirection to one page, This is called Doorway Pages. This trick is very popular and successful Black Hat Trick a few years ago but not anymore after stricken of algorithm update in 2015-16.
So, These are some of the Black Hat Seo Tricks which should never be done, They are harmful to your site. I will make a 2nd Blog too. You can Like, Comment, share, and read my previous blog too.
10 most important things Google wants in your SEO.