ON-PAGE SEO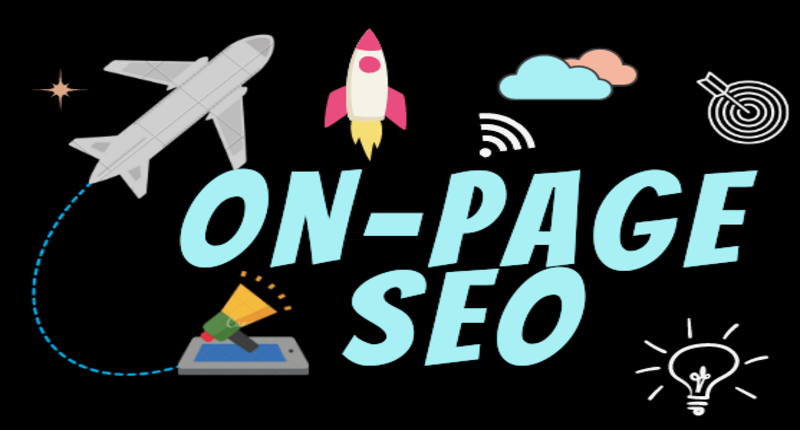 There are two types of SEO i.e. ON-page and OFF-page factors. Now, what is On-Page Seo? It is optimizing your content and your website in such a way that it could Rank on Google SERP. Some factors are known to Individuals in the field. In this article, We will know you about the Different types of ON-Page Factors, Importance of ON-Page Factors on Google SERP.So, let's begin. Different On-Page Factors are as follows:-
Content:- Considering it First because 'CONTENT IS ALWAYS THE KING '. High-Quality Content is most important over any Technique. If it is outstanding then there is no need for any trick to rank and vice versa.
Page title:- Page title should be very precise and exact to point containing content, main keywords directly making it easy for searchers and google.
Header Tags:- Heading Tags are a must to make your Content and page Arranged. It would make crawling easy for Bots. It has 6 levels that are H1, H2, H3, H4, H5, H6.
Meta Description:- This is summarised information of our content which is visible on google search page under the Search result. These must be attractive enough to get traffic.
Image Alt text:- This means the written copy that appears in place of an image on a webpage if the image fails to load on a user's screen.
Site Speed:- Site speed is a major factor because as per google an individual will bounce from the site if it doesn't load in 3 seconds. So, there should be no-cache on-page, there should be regular Antivirus check of Site and No heavy Files and Images.
Visual Content:- One must add Visual graphics to the page like vectorized images and make it attractive for readers, Page Design should be user friendly and not too kiddish.
Bots:- A bot in a page for User assistance could be a ranking factor.
Sitemap:-It means the basic go over of a site that how pages are interlinked etc. It is one of the most important steps to make the Sitemap.xml file of the site for ease of Crawler and google rewards with a little uplift in the ranking.
Robot.txt:-This is also a very important part of On-page SEO. This file gives access to crawlers where to go and where not for indexing.crawler
CTA:- This is not a part of On-page Optimization but still very important for Engagement. This refers to Call-To-Action, which means you need to tell the reader what to do Next for example like, share or comment.
Now, Summarizing everything, why is it important? It is important because when we help google it helps us back out, This makes work easy for crawler and Google and also helps users to get information easily, and as told earlier Google is User-oriented and over the top of it helps us to get ranking.
So, we know what is ON-page SEO? How to do it? What are its component? How it helps us? We must know common mistakes which people often make during Procedures.
Content:- Most people after their keyword research want to write on a topic that has quite more search volume to gain traffic. But one must write about the thing in which they have expertise/or in there niche. This would make relatable Audience and Bounce Rate of the page would decrease. Also, some people use other's content, which shall never be done* (Considered Black Hat SEO).
Page Title:-Page Title of a web page should be related to content and Using Clickbait is considered Black Hat SEO by Google and can get their page banned if the content is completely Off-Topic from Title. Resulting in Negative Impact.
Header:-One must take care of Words used in heading it should specify your content and must be to the point defining keyword.
Image Alt text:- It is considered extra effort by many and Useless but it is necessary for On-Page Optimization.
Visual Content:- This May Give a push in your ranking but one must know how, where to use them. For example-In, a blog with some Serious topics or Sad topics like Death of A legendary Artist Animated Graphics and bright colors won't work out and these are ethically wrong.
Referring Domains:- These for sure play important Role in ranking but one must always be very Selective while giving or getting Backlinks they always should be relative to Content and helpful to Reader.
So, this is all done for On-Page SEO. Thank You. Please let me know what thing did you liked and rectify me in Comment Section. If, you liked my Explanation Do share it.
You can Read My Previous Blogs :-