OFF-PAGE SEO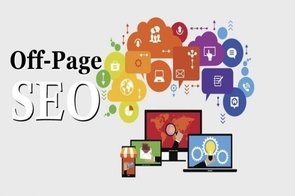 SEO is of two types i.e Off-Page Seo and On-Page Seo. So, What is meant by Off-Page SEO? These are done to increase ranking in Website Ranking on Google (SERPs). Off-page SEO refers to practices that are done outside the boundaries of your website, practices done to increase awareness, Brand reach, make a website popular. There are many factors which are as follows:-
Backlinks:-This means how much you are being referred to other Webpages. Backlinks are links from one website to a page on another website. Google and other major search engines consider backlinks "votes" for a specific page. You can Checkout out our blog here for Backlinks.
Email Marketing:-It means sending you Blog Subscribers, regular Email to make sure that they are connected to you.
Sponsorship:-Promotions and sponsoring other bloggers of the relevant content makers can help for gaining views and traffic.
Sharing:-After posting a Blog Sharing it to your niche communities on social media platforms.
Guest blogging:-This means to write Blogs for famous high DA page to Receive High-quality Backlinks, Fame.
Blog Submission:-Blog should be uploaded regularly to increase engagement with the audience.
Presentation:-Presentation of blogs like title, meta description, should be attractive enough to gain traffic.
Forums:-This means to promote your blog site on different scales like Quora, Reddit, Facebook, etc.
Influencer marketing:-Influencer marketing is a type of marketing that focuses on using Famous influencers to drive your message to a larger audience.
Now, How it helps us? Let's take an example:- You want to have Pizza and you are in Market with 3 outlets of pizza Serving Brands. Now, how will you choose which outlet you should Go?
Reference:- You asked 3-4 people there and they say you to go to outlet 2 for best Experience. This is Referring or Backlinks in Digital Language
Promotion:- You see hoarding with a celeb's picture enjoying Pizza in Outlet 3 which also influences you to try that Outlet. This is Influencer Marketing for Outlet 3 and Sponsorship for the celeb.
Social Media:- Now, you see a post on Facebook with a check-in of Outlet 1, which also praised the Service and Taste. This is Forum Submission.
Presentation:-Now, you look at all 3 outlets and notices that outlet 2 is Theme-Based they use mickey mouse dresses for Waiter and many more which influences you to check it out once. This is a presentation of the Product/Website.
Now, you finally visit an outlet and had a great experience there and when you refer it to others, This is Sharing.
Although, these examples may not be as specific but will give you a practical idea of the factors. So, it would be easy for you to understand how Off-page Seo helps us to Rank. It simply increases Popularity, visibility, and gives it a brand Value in the Sub-conscious Mind.
So, we know what is Off-page SEO? How to do it? What are its component? How it helps us? We must know, common mistakes which people often make during Procedures and precautions. Those are:-
Referring Domains:- Backlinks you are getting must be of your Niche.
Email marketing:-Mostly people spam one's Email with their blog which shouldn't be there as it makes the reader irritate and unsubscribe the channel.
Sharing:-The communities in which you share your content should be relevant and in your niche.
Forums:-You must not Spam and promote unnecessarily.
Influencer Marketing:-Influencer must be in Your Niche otherwise it is Useless.
Presentation:-The title and secondary factors should be related to content and not a clickbait.
Guest Blog:-The blogging Site must be of your niche.
So, this is all done for Off-Page SEO. Thank You. Please let me know what thing did you liked and rectify me in Comment Section. If, you liked my Explanation Do share it.
You can Read My Previous Blogs:-