DIGITAL MARKETING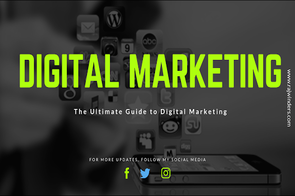 Internet is a Vast World, Gaining a new population nearly every Minute. So, this means you can show your work, talent to the whole world which opens a new way to everybody but, the problem is how to make sure that your business, talent reaches everybody who can benefit you and how to get a Fan Following? The Answer to your queries is Digital Marketing.
Now, you know what Digital Marketing. So, Let's start with what it means? Digital Marketing refers to the promotion and selling of products with help of Marketing techniques and Research but this all is done on the Internet. As the assumption of Many Digital Marketing is limited to Blogs only but it is a vast topic containing many types which are:-
SEO
SEM
SMM
SMO
CPC/PPC
E-mail Marketing
So, to make it clearer Blogging and Youtube are major parts in Digital Marketing but again to clarify it is never limited. In, this Blog BLogging would be majorly used for Example.
SEO:- This refers to 'Search Engine Optimization' which means to optimize your content in such a way so, that one can rank on Google SERPs.You can check out my previous blogs for a detailed Explanation Overview Guide To SEO.
SEM:- This refers to 'Search Engine Marketing' this directly means to Ads. This means the promotion of your Site through Advertisement. The first result for Any keyword is Ad. Higher the search volume, the more the CPC/PPC. For Example:-
Now, What is CPC/PPC?
Its Full Form is Cost Per Click/ Pay Per Click. As cleared from this means the rate of every Click or every person which reaches you through has made you pay a decided amount which can vary anywhere between $0.1- ∞.
SMO:- This refers to' Social Media Marketing'. This Means to increase Reach over Social Media Platforms Like Instagram, Snapchat, Facebook, etc.
SMM:- This refers to 'Social Media Marketing'. This means to Increase Reach but using Ads on Social Media Sites. Facebook Ads have been considered most beneficial as they are cheap and get many impressions and following next by Instagram.
E-Mail Marketing:- This means getting in touch with your blog readers frequently and keep them updated about new content that has been uploaded.
So, now to give an overall idea about what is Digital Marketing. It means to improve your Digital Presence.
So, this is for Digital Marketing Thank You. Please let me know what thing did you liked and rectify me in Comment Section. If, you liked my Explanation Do share it.
You can Read My Previous Blogs:-